Happy New Year from Books for Lesotho!
Your donation has never been more important – Books for Lesotho needs over $12,000 before 30th June 2022 to breakeven for the financial year. Will you contribute …???
Donations from 01 July to 31 December 2021 totalled $4,555 ($8,479 last year) – budget $17,183 ($14,208 last year). Freight costs have recently risen by 55% – this is our main expense. Shortfall this time last year was $5,729 – this year it is $12,623
Is it worth supporting Books for Lesotho? The words from Lesotho reported below speak for the cause. Your financial support will enable the project to continue – ways of giving are on the website.
Words from Rotary Club of Maloti, Lesotho, Friday 01 October 2021:
Goodday David,
You and other Aussies dedication to this project is, indeed, amazing. Out of this world. On behalf of the Rotary Club of Maloti and all the recipients of these most valuable books, let me express our profound gratitude. When we were at Morija Theology Seminary for delivery of books, the Rector of the Seminary said that the books were the most valuable they had ever had. He said the whole shelf was good enough for a fully fleshed library on its own. I have just shared copy of the newsletter with members of our Club.

Best regards.
Bore Motsamai
Director, Foundation Committee
Ntate Matsobane, who originally requested the special project for theology books (which was separately funded to the books for schools), wrote: 
Hi David. They (the trainees in the seminary) were very excited, especially that some of them are studying for their PHD's and they found a lot of useful literature. Thank you a lot.
A WhatsAPP message arrived from Ntate Mothae Moletsane on 15 October 2021: 
"Loading boxes from Rotary Club storage (then heading) to Moharane Community Library today"
A donation of books from Liesel Kippen:
As I report regularly in the newsletters, B4L receives books from many sources with deliveries arriving by various means, and often several each week. We try to acknowledge these donations directly, and the $ donations too. In this newsletter we acknowledge only a few. I mention this one now in recognition of Liesel's donation as representative of the many smaller donations that add up to the thousands of books we send. As Liesel wrote, "When kind acts are acknowledged, however small, it encourages us to do more and more." Books for Lesotho Inc. thanks all the donors – we end the year with The Barn bulging with books to be sorted, books to be packed, and as reported elsewhere 7 pallets ready to send to TRC in Lesotho.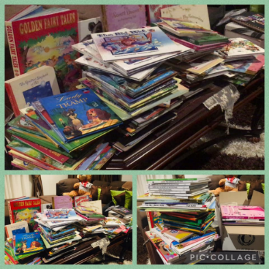 Post on Facebook 27 October 2021 from our in-country partner, TRC:
"Transformation Resource Centre (TRC) is still on a mission to encourage students to develop a reading culture. This week the information department is out to defeat the odds and deliver books to schools as opposed to what used to be the norm. In the previous years the Centre used to host schools at its premises to facilitate the donation but due to COVID-19 this has not been the case. Needless to point out the fact that this has immensely affected pupils academically, psychologically and financially. The Centre hopes to restore a bit of normalcy by delivering these boxes to schools still with the aim of providing sufficient material to establish school libraries and the upkeep of a reading culture more so in these uncertain times.
B4L is pleased to see these books which were packed during 2020 and despatched to Lesotho in February 2021, have now been distributed to the recipient schools, despite interruptions in Australia, South Africa and Lesotho due to COVID-19. Well done staff at TRC! All our volunteers and donors (books and $s) are thrilled!
Once Upon a Festival:
Immanuel College held its first Once Upon a Festival this year. On 10th November, Dr Kylie Booker, Director of Resources and Innovation, sent the following email:
"The books you picked up today were generously donated by students who attended Once Upon a Festival, a school-based literary festival that was hosted at the Immanuel Campus on the 28th and 29th of October for students in all sectors of Primary and Secondary education. Quite a number of books were also donated by Immanuel Primary School as well as the Immanuel College Library.

Once Upon a Festival was a success despite some inclement weather as well as COVID-19 impacting on our ability to bring interstate-based authors to the Festival to appear in person, as we had originally planned. The interstate-based authors appeared via Zoom and the sessions were just as well received as were those presented by local South Australian authors and illustrators, culminating in some terrific feedback from many schools and students who participated.

We hope to be able to deliver another Festival in the future."

Our Humble Waste Bin….. is essential for the recycling of the hundreds of cartons we receive each year, as well as the small quantity of books unsuitable to send. Through Peter from Cleanaway Waste Management Limited B4L has a shiny new bin and an amazing contract rate for taking our "waste". Thank you Cleanaway for your support of B4L. Your charge-rate will help our budget!! Thank you everyone who has contributed in whatever way.
David Linn
Chairman, Books for Lesotho Inc.