IN AUSTRALIA, 30 JUNE IS TIME FOR TAX RETURNS! 
Recently, the Board of Books for Lesotho learned that a $3,750 shortfall currently exists between donations to date ($9,650) and expected expenses ($13,400) to June 30th 2018.
The good news is the expenses cover 2 shipments totalling 25,780 books. The deliveries have gone to our traditional partner, Transformation Resource Centre (16,660 books) and to our new partners, the Rotary Club of Maloti (9,120 books). These books will assist in creating or expanding libraries in about 41 schools or institutions, opening the window to the joy of reading for hundreds of students.
For those interested in comparisons: Donations last financial year totalled $12,800 while expenses were $ 12,900. (Expenses included one shipment of 13,300 books to our founding partner, Transformation Resource Centre.)
CAN YOU HELP BOOKS FOR LESOTHO BREAK-EVEN THIS YEAR WITH A DONATION NOW????
The easiest way to donate is to use GiveNow – a secure system with immediate issue of a receipt: 
Or contact David (linnd@bigpond.net.au or 0418 877 112) to enquire about other methods of making a donation.
A huge THANK YOU to individuals and organisations who have given generously this financial year.
We continue to acknowledge the donation of books from many sources and pro-bono support in various ways. We have 9 active volunteers who work well together each Wednesday morning in the confined space of The Barn at Pasadena High School.
Seen here are volunteers sorting books at The Barn prior to them being packed into boxes ready for shipping. 
Regularly we have up to 9 volunteers at any one time, all busy. Thank you all. 
LATE NEWS: The Mitcham Exercise Group has in the past 11 months donated over $1,010 compared with $990 for whole 2016/17 year – what a great effort. Thank you. 
WHAT'S BEEN HAPPENING
APRIL 2018 – We despatched, the now customary, 7 pallets of books, being 105 boxes containing 
16,631 books, to our long-term partners, Transformation Resource Centre in Maseru, Lesotho. 
The total number of books shipped over 11 years, inclusive of the first shipment to the Rotary Club of Maloti which was despatched in late 2017 (see report below) = 130,000.
MAY 2018 – Three of the Directors of Books for Lesotho Inc., David and Liz Linn and Peter Murchland together with Meg Murchland made a privately sponsored visit to Lesotho and South Africa. While they had some holiday-time scheduled (for relaxing and sight-seeing), there were some very busy days in Lesotho dealing with "The Book Business". 
Establishing connection with the TRC staff recently appointed to drive the distribution and cultural transformation process. Pictured from left: Tsikoane Peshoane (TRC Director), Meg Murchland, Lerato Phaaroe, Peter Murchland, Liz Linn, Likopo Mokhele and David Linn)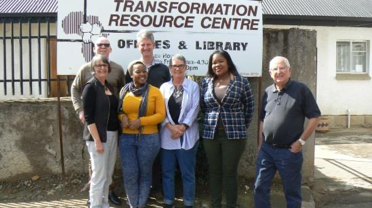 Meeting with key leaders in Rotary Club of Maloti in Maseru to learn about the new library they have built and exploring their approach to building a potential partnership with the Rotary Club of Mitcham. 
Meeting with Monica Letsoha to learn about the African Library Project, and the initiatives being driven by the Lesotho Librarian Association (ALP) and Botho University in supporting library training in ALP recipient schools and communities.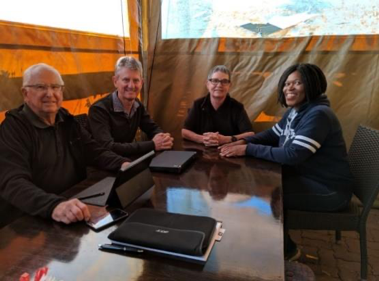 MAY 2018 – VISITING SCHOOL IN THE MALIBA AREA – in the Far North of Lesotho
St Felix Primary School 
St Dominic Primary School 
A report just to hand from the Rotary Club of Maloti, Lesotho, on the distribution in early 2018 of 4 pallets of books comprising 60 boxes and containing 9.115 books – mainly for schools in remote districts – is reproduced on attached .pdf file. 
David Linn
Chairman, Books for Lesotho Inc.