The entrance to TRC
Liz in TRC foyer with the 3rd shipment of books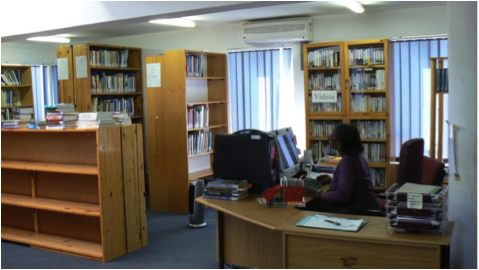 TRC Librarian, 'Me Mosa Muso, at her desk in the TRC library
Distribution of books:
Traditionally, books have been distributed in Lesotho by the Transformation Resource Centre as part of an annual ceremony held near the beginning of each academic year. Representatives from Australia have been present at 3 such ceremonies: the first held in 2008 , with the tour group David and Liz organised in 2012, and in 2014. Follow this link to images of these three events plus 2011.
In 2016, TRC delivered the books to the schools. This enabled TRC to make an assessment of the use the school has made of the resources, and the value a library has been to each school. David and Liz, together with daughter, Fiona, and grand-daughter Niav, were present at some of the schools. Images and videos of those experiences, and others they had on that visit can be found here.
We have worked in association with Maliba Community Trust to supplement their amazing work to improve the general wellbeing of the people in their area. They transport books from TRC in Maseru to the north of Lesotho and then distribute them to local schools.
Who has received books through the project?
Through Transformation Resource Centre:
Primary Schools:
Assumption
Boribeng
Hlotsenyane
Ikaheng
Letsika
Lithabaneng LEC
Luka
MACSEM
Mahala
Masita
Masite
Mofumahali oa Rosari
Mona
Motimposo
Mt Carmel
Mt Olivet
Ntjepeleng
Pulane
Qoaling LEC
Ramatlali
Sefate sa Bophelo
Sefikeng
Tsosane
Seleso
St Denis
St Dominic
St Felix
St John
St Peter
Secondary Schools *:
Lesobeng
Makebe
Mona
Sefikeng
High Schools *:
Assumption
Bishop de Mazenod
Bokang
Boribeng
Honorat Labrecque
Ikaheng
John Maud
Khubetsoana
MACSEM
'Malithuso
Maseru
Mohale
Moorosi
Motsekuoa
Mt Carmel
Qoaling
Rasetimela
Ribaneng
St Barnabas
St Boniface
St Thomas
Thamathu
Zenon
* Secondary schools cover Forms A to C (Years 8 to 10 in Australia), and High Schools cover Forms D and E (Years 11 and 12)
Other recipients:
Good Shepherd Centre for Teenage Mothers, Sehlabeng-Hamakuioe
Juvenile Training Centre in Maseru
Herd Boys' Night Schools at Semonkong Children's Centre
Lesotho Child Counselling Unit (LCCU), Mazenod
Patrick Rorke's Linotsing Workshop, Morija
Southern Mountains Association for Rural Transformation and Development (SMARTD) Community Library
St Angela Home for Disabled Children, Maseru
St Camillas
In association with Maliba Community Trust:
St Denis High
St Denis Primary
St Felix Primary
St John Primary
St Peters Primary