The entrance to TRC
Liz in TRC foyer with the 3rd shipment of books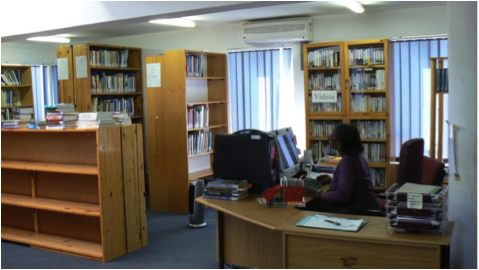 Me Mosa Muso, originator of the project at her desk in the TRC library
TRC is a Non-Government Organisation (NGO); a Lesotho ecumenical social justice organisation based in Maseru, the capital. One of the many services TRC offers is a library which focuses on social justice issues; it is often packed with university students.
The Librarian at TRC in 2004 was Me Mosa Muso. Mosa told the Books for Lesotho founders, David and Lizz Linn, that she had a dream to put a library into every school in Lesotho, but the project needed a sponsor. That, in essence, was the motivation that had the first shipment of books on 4 pallets delivered to TRC in 2007.
The 15th shipment to TRC (of 7 pallets – 105 boxes holding about 17,00 books) was shipped in December 2021 to about 15 primary schools, 39 high schools and a community library.
Click here to see how TRC helps schools in Lesotho use our books.
In 2017, Books for Lesotho added a second partner to the project, the Rotary Cub of Maloti, also based in Maseru.
In early 2018 Books for Lesotho delivered the first load of 4 pallets of books (9,115 books) to the RCoMa. The fourth shipment, dispatched in June 2021, held about 10,000 books.
PROJECT SUMMARY
The total number of books shipped between 2007 and December 2021 stands at 228,958 with a total transport cost of approx. AUD$80,000 – all paid for by donations.
About 100 schools, institutions and communities have used the books to start their first library or, in a few cases, they have added to their existing library.