PERSONAL MESSAGE FROM DAVID AND LIZ
The words we used in Newsletter #2, 2016 confused some people. We sent out an email to clarify the situation. However, to be certain our supporters understand what has happened we repeat the message.
We are still VERY involved in the Books for Lesotho project – we are both on the Board and still the main drivers of the project. The new organisation has been formed for many reasons. Key points are:
To formalise what has been a private project thereby placing it on a proper governance basis, which has the result that:
the project can be presented to a far wider audience, and the audience can interact in return,
special opportunities become available, e.g., tax deductibility of donations, applications for funding to further develop Books for Lesotho and firm approaches to schools and businesses for help in sourcing books,
volunteer helpers can properly and responsibly get involved.
As we stated last time: "We hope this clears things up. If you are unsure, please contact us, as we want to retain your support as the project grows." Thank you!
NEWS FROM LESOTHO
The good news from Daniel at Maliba Lodge in northern Lesotho is: "Yes, three weeks it snowed and tomorrow (8th July) as per weather forecast, we are expecting cold current. Means it might snow." For a country that depends on snow to produce water for sale to South Africa together with the consequent hydro-power to sell too, this is great news after last year's drought. Thanks, Daniel for the report.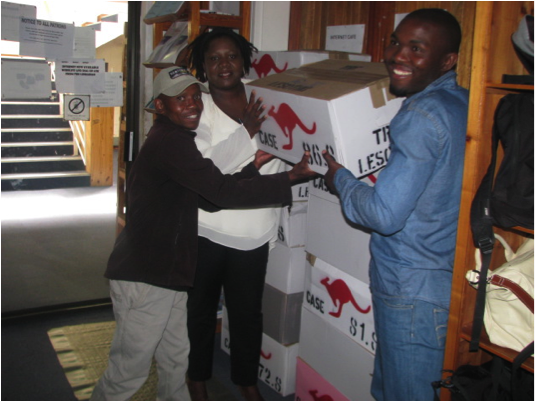 Daniel, on left, collects books from TRC for Maliba area,
from Librarian, Seithati Mokhomo and helper. (2014)
SHIPMENT FOR 2016
The annual shipment for 2016 is the first under the Books for Lesotho new name. As reported last time, the first pallet of 15 boxes was packed during April at our partners, South Pacific School Aid. In our own "shed", we have almost completed packing the second pallet, another 15 boxes. The latter included books sourced from the annual Westminster School Fair, Mitcham Library Service and from two of our new Used-Bookshop partners. In return, we have donated to them suitable books that don't meet our requirements. We now have 3 bookshop partners – they are listed under "Our Friends" on our website. Please support them.
We remind you that we plan to ship at least 7 pallets this year (including one pallet from Melbourne). This is the last shipment of the second 5-year cycle of distributions by Transformation Resource Centre (TRC), our partner in Lesotho. Next year, TRC will select a new group to start libraries in their schools.
DEVELOPING OUR COMMUNITY AND DIGITAL PRESENCE
June and July have been great months. Books for Lesotho Inc. was recognised as a Charity by Australian Charities and Not-for-Profit Commission (ACNC) and last week was advised by the Australian Taxation Office of endorsement as a Deductible Gift Recipient (DGR). The latter allows donors to claim their contributions of $2 or more as a tax-deduction.
By the end of this week we expect that you will be able to donate directly through our website using www.booksforlesotho.org/donate. The service, "DonateNow" is operated by www.OurCommunity.com.au.
Digital Presence
Our website, www.booksforlesotho.org, has been developed further; we intend to include more news from schools and organisations that have received books. However, we must remember that communications in many parts of Lesotho are still limited, so this might take a while to develop.
Please like our Facebook page at www.facebook.com/booksforlesotho, and feel free to make comments on our Facebook page or on the website.
PLAN FOR SCHOOLS
We have prepared materials suitable for use in those schools that elect to conduct a book drive in support of the project. We intend to invite financial support based on the costs of getting the donated book to Lesotho.
One idea is to promote "A Book and A Buck". Based on 2015 costs, we need up 50c/book to cover the packing and shipping costs.
We are seeking sponsors to help cover printing costs for the publicity material for use in schools. Please contact us if you are able to assist or if you want to know more.
WHAT CAN YOU DO NOW?
Give books – We are accepting fiction and non-fiction books (new or used – but only in good condition) suitable for first readers up to Year 12 level. Look here for detailed information.
Donate – To our bank account: Books for Lesotho Inc. at Westpac Banking Corporation (Australia), BSB 035-044  Account No: 228285. Please include your family name with the transfer and also advise us by email. Look out for the launch of the "GIVE NOW" direct giving system.
Space – We are looking for a home – at a minimum of 12m x 20m but with some special access needs. Please make contact if you can help, even with an idea!
Sincerely,
The Board, Books For Lesotho Inc.