In Memory of Brian Bridger:
Brian died during July 2021. He was a long-term member of the Over 50's Mitcham Exercise Group and staunch supporter of Books for Lesotho within that Group. For several years, this group has helped B4L by regularly donating small change at class sessions. Brian always helped out with donation collections when I was away. At the suggestion of Jennifer Dow, members of the Group made donations to Books for Lesotho in his memory (and I am sure Brian would have approved).  Donations totalled $140.00. B4L thanks the donors and we offer our condolences to his wife Jenny and the family. On an extra and very sad note, I report that more recently, Brian's wife, Jenny, has also died.
Occupational Health & Safety – Help in The Barn
Wome of the B4L volunteers were showing their age when they made a request for mechanical help to place the heavy filled cartons on either the bottom layer on a pallet, or the top layer (3rd level). They recently received that help with the acquisition of a new hydraulic scissor lifter trolley – Left: see Ray and Rob in action using the new equipment. The cartons are now packed on the lifter and when sealed the lifter is rolled near to the required position on the pallet. The cartons are then easily slid into place. The B4L Board approved the purchase as capital item utilising some of the previous generous grant from the Lang Foundation (thank you).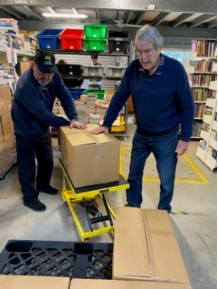 Another valuable and generous donation arrives at The Barn:
You may recall seeing a simlar image to the one left…. This is  "repeat". This pallet load of new cartons arrived recently from Melboure, generously donated and freighted by Chris from Preschem Pty Ltd. Chris is a great supported of Lesothoand helps B4L in this fashion according to our need for cartons (and this does seem to be quite often). Thank you, Chris.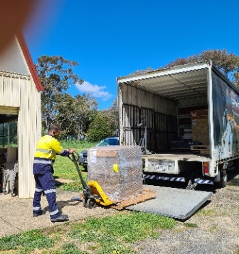 A contribution from Maddie:
Maddie is one of B4L's newest volunteers. She haswritten about her involvement with B4L.  
Hi, I'm Madeline and I recently started volunteering at B4L, Initially, I was just looking to fill my time but after seeing the work done at B4L I'm now very passionate about it. Seeing the sheer number of books that go through the barn and get sorted and packed into boxes to be sent off is really inspiring; it truly is amazing how much we are able to send to Lesotho. At B4L I mostly sort books by checking themes, the complexity of words, and readability in terms of typeface, font size, etc, and decide what age group the books are appropriate for. Being at B4L has been wonderful, the environment is lovely with everyone being so welcoming and joyous, and knowing that I'm helping this organization to make a real difference really is wonderful. Whilst I started simply looking to fill time, now I wouldn't give it up for the world.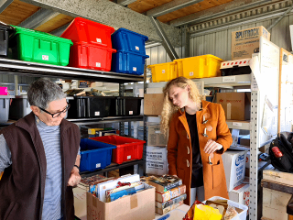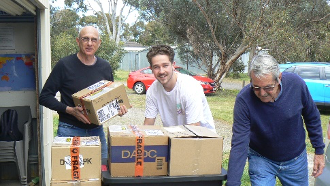 2020/21 FINANCES (unaudited):
To 30 June 2021: Donations = $14,203
Expenses = $13,973 (freight costs have just risen by 55% – and this is our main expense)
In the June 2021, B4L made an appeal for last minute donations to close the gap on our expenses. Last minute donations "closed the gap" – thank you
2021/22 FINANCES: 
The B4L Board has approved a budget of $17,183 compared with $14,203 last year. This figure is likely to present a challenge to meet through our only source of income – your donations.
To 30 September 2021: Donations = $3,893              
David Linn
Chairman, Books for Lesotho Inc.